Eoleaf Pure 500 air purifier
Regular price
€789,00
Sale price
€699,00
Unit price
per
Sale
Sold out
In stock. Get it between - .
Worldwide shipping.
View full details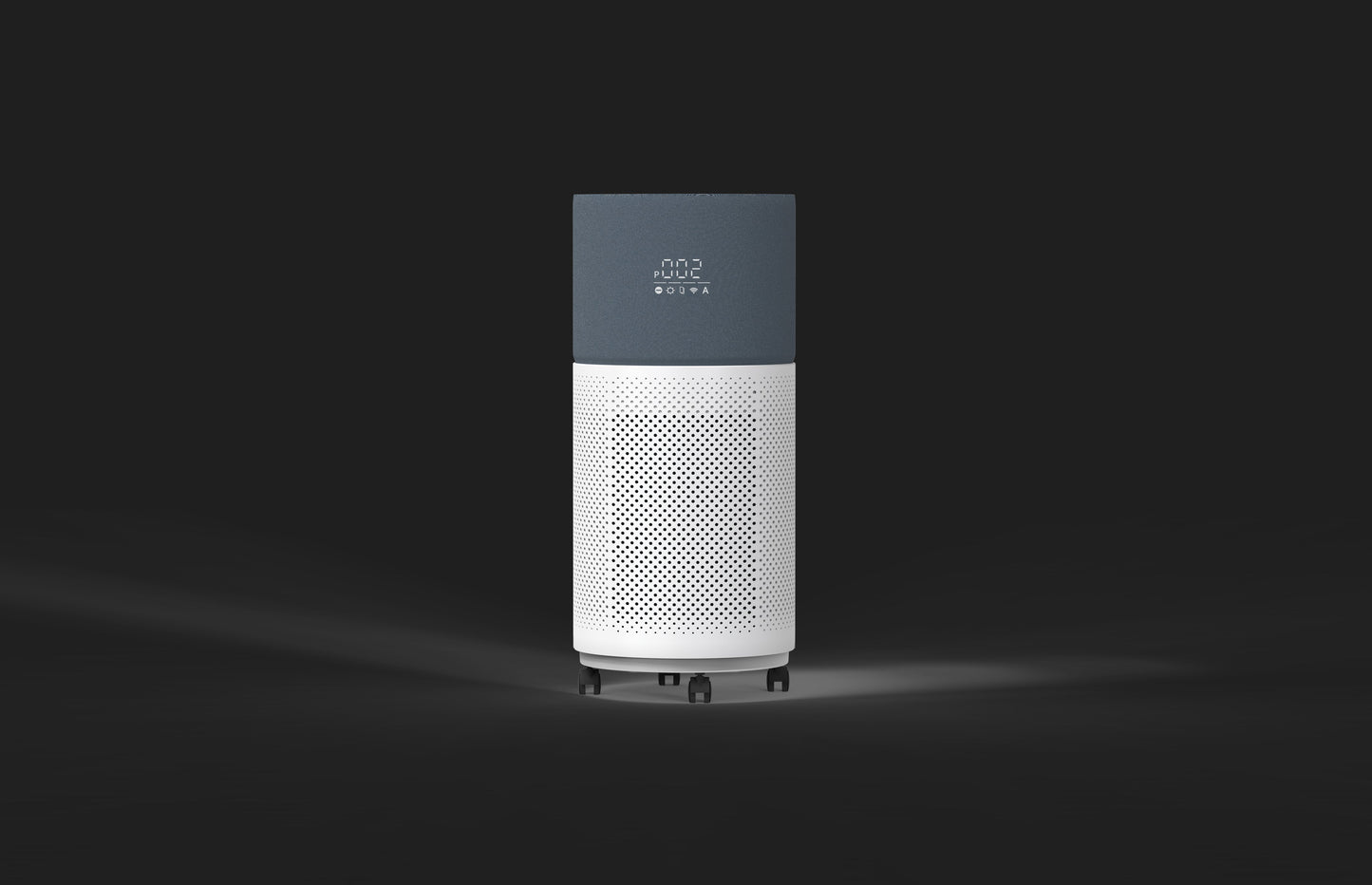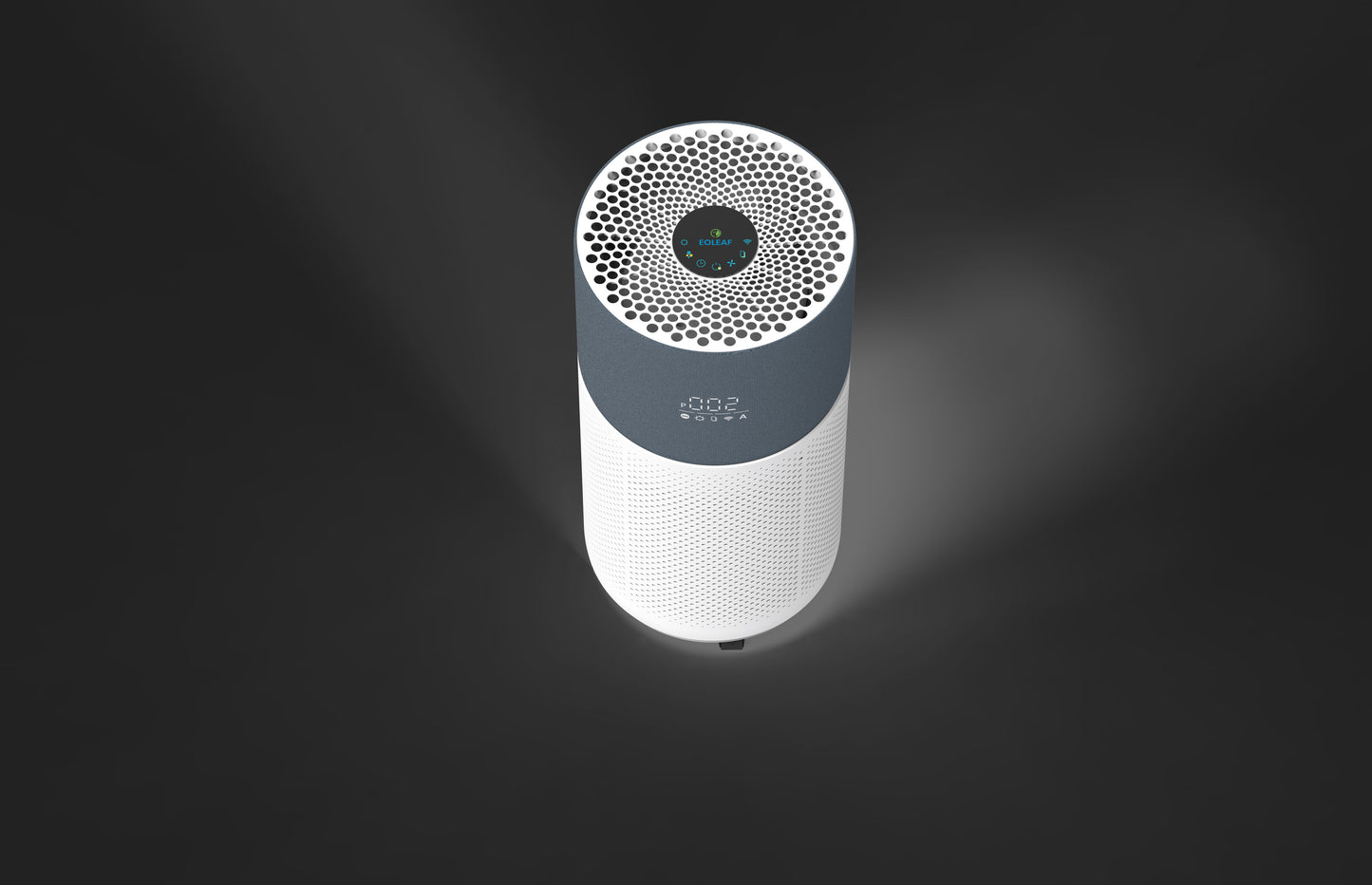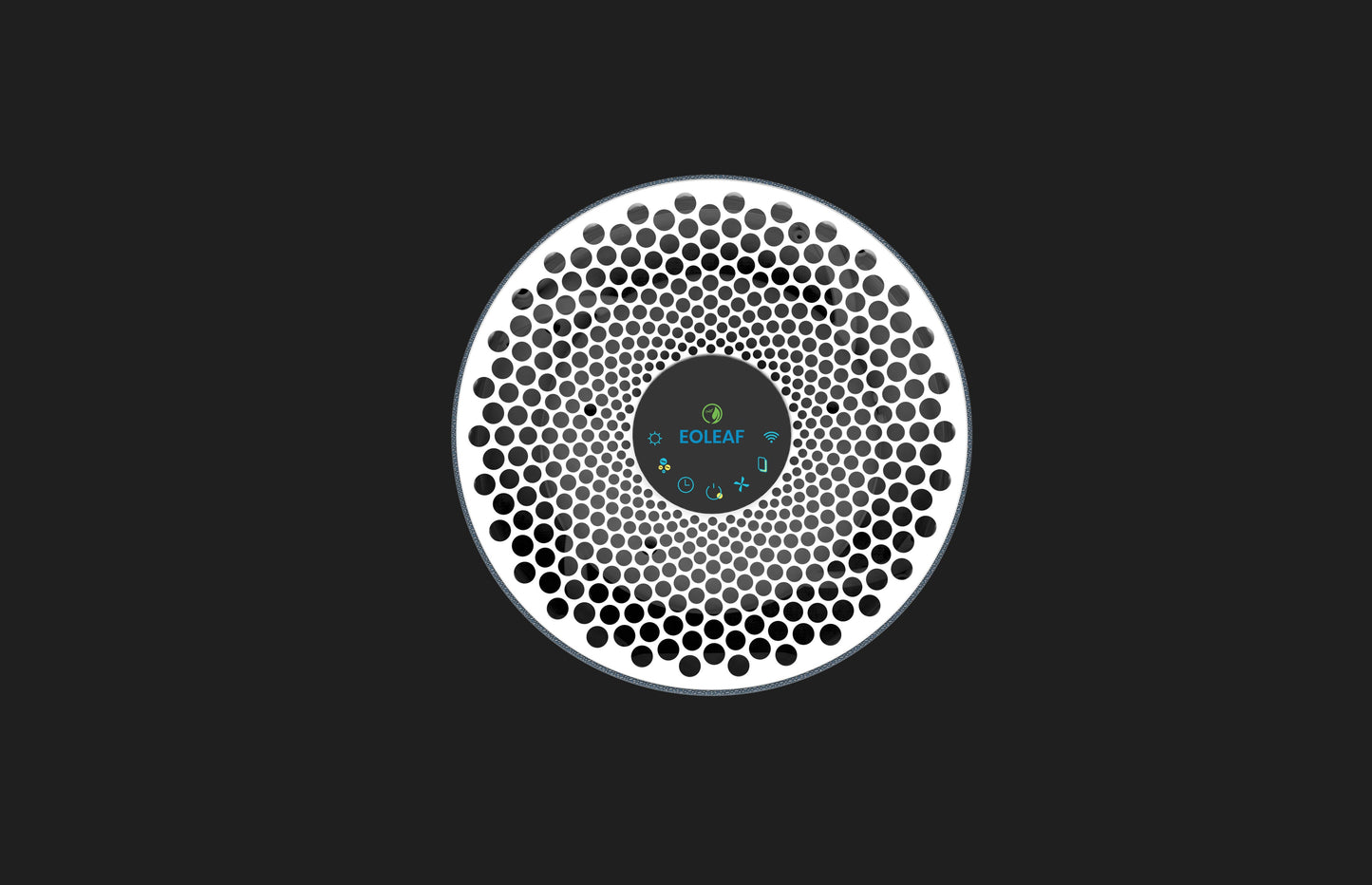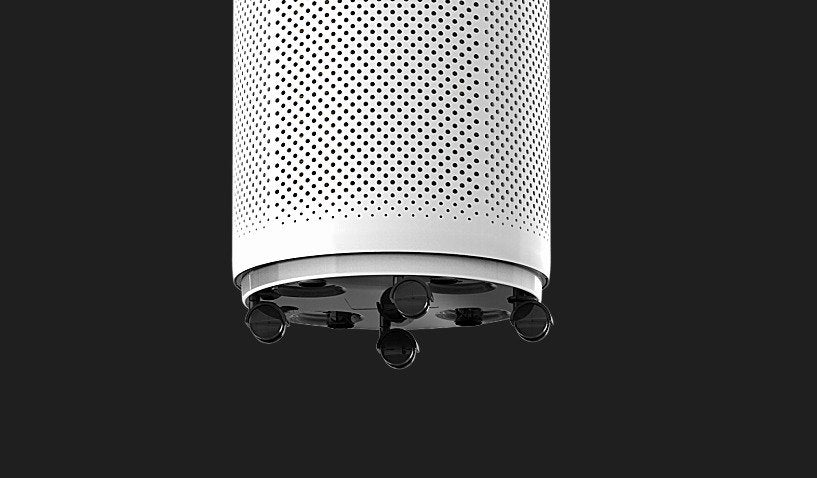 Air purifier with innovative multi-layer HEPA filtration system
Product highlights

- Medical-grade filtration: using 8 different filtration and purification technologies.

- Optimised air circulation: 360° air intake and vertical discharge.

- Superior power: up to 500 m³/hr of air flow, equivalent to an area from 0 to 60m² (650 ft²).

- Easy to use: equipped with an intuitive built-in touchscreen. Comes equipped with wheels to be moved around effortlessly. A filter change indicator notifies you when it is time to change it.

- Quiet operation: will blend into the background. Also comes with a night mode (quiet and all lights off).

- Real-time data: continuously monitors your air quality and can adjust the fan speed accordingly (in automatic mode).

- Smart: compatible with a Wi-Fi app so you can control it remotely right from your phone. You can create smart scenarios and automate its functions.
Shipping

- Worldwide shipping.
- Two-day delivery.
- Shipping costs are calculated during checkout.
- Zero custom fees, tax charges or import duty.
Technical Specifications

 

Product model

Eoleaf Pure 500

Range of action

From 1 to 60

m² (1 to 650 ft²)

CADR (Clean Air Delivery Rate)

Up to 550 m³/h (depending on speed level)
CCM (Cumulate Clean Mass)
P4/F4

Fan speeds

1-2-3-4 (4 levels)
Multi-Layer Filter
Pre-filter + Antibacterial Filter + Medical-grade HEPA H13 Filter + Activated Charcoal Filter + Photocatalysis
Lifespan of filter
Up to 12 months (filter change indicator)
Additional purification technologies
- UVC sterilisation (Two UV lamps at 254nm)
- Ionisation (3 million pcs/cm3)
Noise level (decibels)
-

Speed 1: 30 dB (whisper)




- Speed 2: 46 dB (average home noise)




- Speed 3: 50 dB (faint rain)




- Speed 4: 60 dB (normal conversation)

Power input

ECO stand-by power ≤2W
- Speed 1: 5.7 W
- Speed 2: 12.1 W
- Speed 3: 17.5 W
- Speed 4: 45.5 W

Input Voltage & Frequency

Fully compatible with both EU and UK plugs.
AC 220V - 50Hz

Dimensions

29.0 cm (diameter) x 65.1 cm (height)

Weight

7.5 kg

 Air Quality Indicator

Excellent: Green
Good: Blue
Poor: Yellow
Very poor: Red
Other characteristics
- Filter change indicator
- Wheels to move easily (can be locked)
- Timer function
- Night mode
Connectivity
- Compatible with voice controls (Alexa, Google Assistant & Siri)
- Compatible with Tuya Smart
Warranty
- 15-day money-back guarantee
- 2-year Limited Warranty
Warranty

- 15-day money-back guarantee.
- 2-year Limited Warranty (can be extended to 3 years during checkout).
Eco Index

- Member of 1% for the Planet: we donate 1% of our revenue to environmental associations.
- Durability: our products are made to last. Filters will be available for the entire lifespan of the machine.
- Repairability: we have two dedicated repair centres located in the UK and in France.
- Eco shipping: all our deliveries are carbon neutral. We never use air transport at any point of the supply chain.
The Eoleaf Pure 500 is our most versatile model. It has been designed to adapt to all room sizes – living rooms, meeting rooms, hotel rooms, offices, and medical practices alike.
It covers any space from 0 to 60 m² (650 ft²) thanks to its four speed levels. The fan speed is automatically adjusted depending on your level of indoor air pollution.
Quiet as a whisper in speed 1, its power will likewise impress you in speed 4. As with all our products, it comes with a top-of-the-line multi-layer filter with a broad spectrum of action against all forms of air pollution.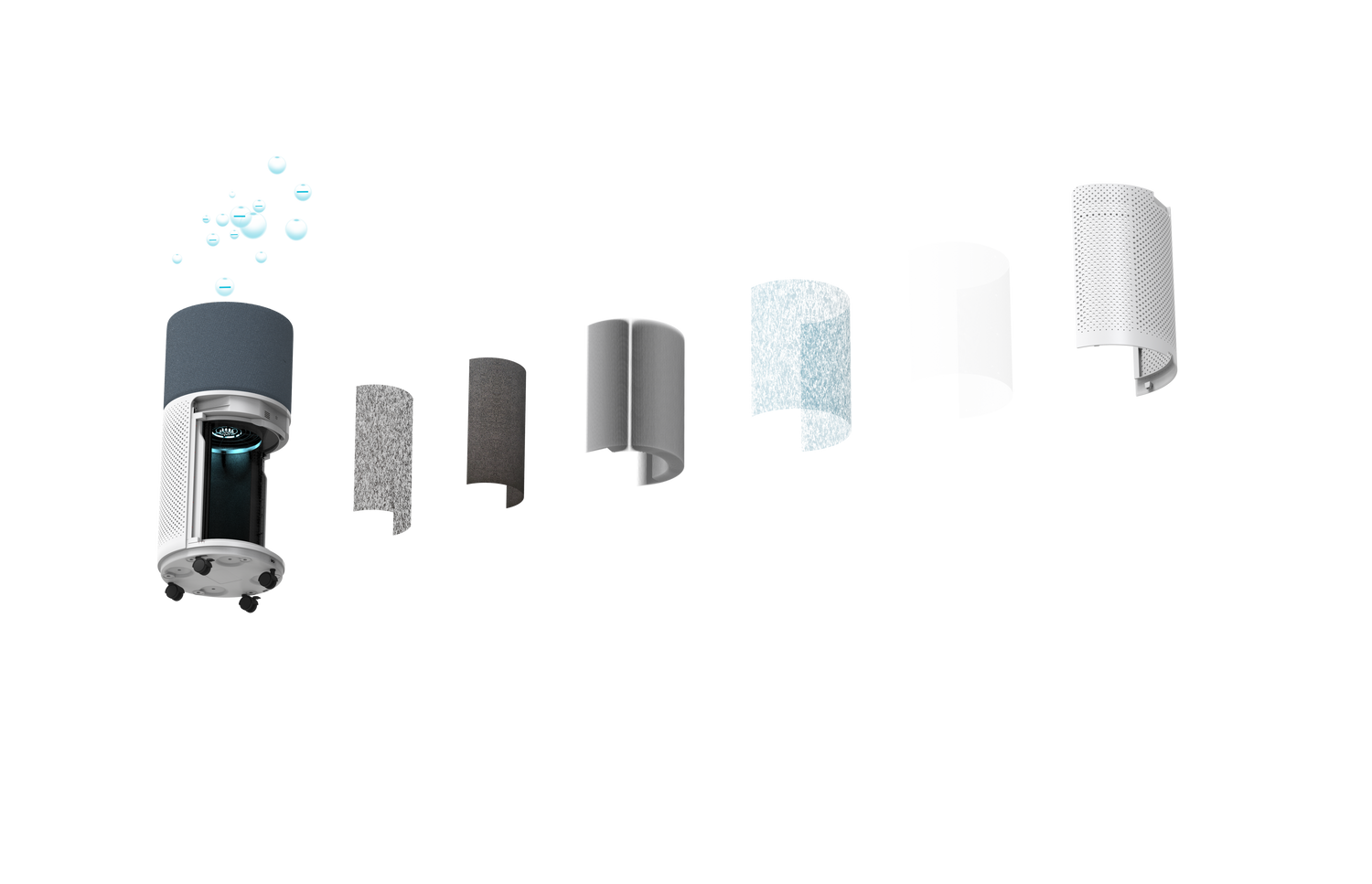 Medical-grade air filtration
The Eoleaf Pure 500 uses a combination of best-in-class technologies to filter and purify the air. It relies on a proprietary 8-step filtration process to remove all pollutants from your indoor air.
This process consists of a pre-filter, natural bamboo fiber with a silver ion coating, a medical-grade HEPA H13 filter, an activated charcoal filter, photocatalysis, UV sterilisation, and ionisation (negative ions).
Thanks to the Eoleaf Pure 500, all airborne pollutants are efficiently removed from the air: germs (viruses, bacteria, and mould spores), fine particles and nanoparticles (PM1.0, PM2.5, PM10), allergens (pollen, dust, dust mites, animal dander), chemical pollutants (such as VOCs, formaldehyde, carbon monoxide, and many other toxic gases), smoke (including tobacco smoke and exhaust gases), as well as bad odours.

Learn More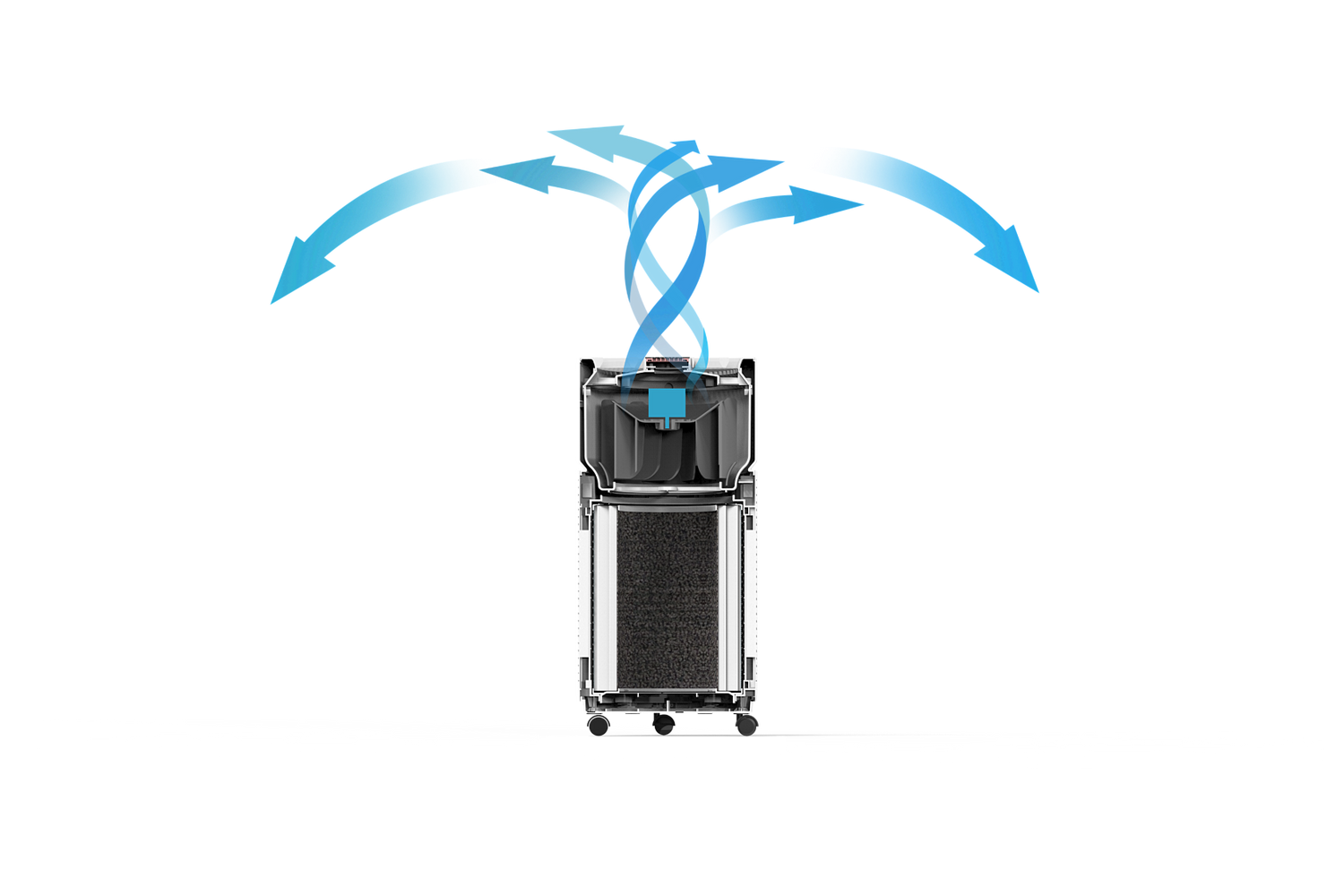 Powerful air circulation
The Eoleaf Pure 500 purifies the air several times per hour to keep up with continuous pollution. This is possible thanks to its powerful purification capacity of up to 500 m3/hr (otherwise known as airflow or "CADR"). It uses four different speeds to perfectly adapt to the need of the space at any given time.
Its design has been specifically developed to ensure optimal air circulation. Most notably, it relies on a 360° air inlet so that it can take in air from all angles, an energy-economic yet powerful fan, and vertical output to ensure proper air flow in the room.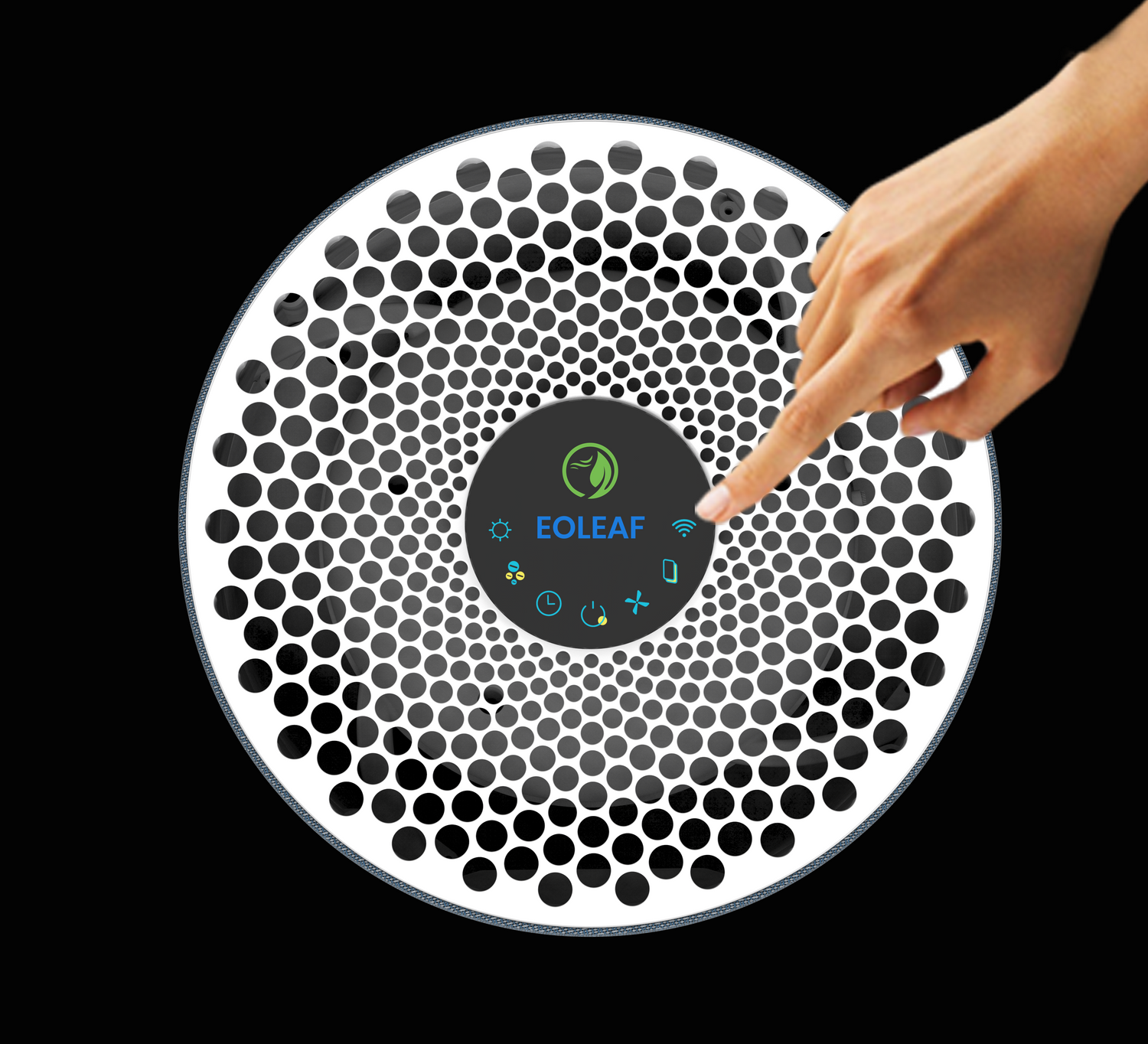 Real-time air quality data
This unit continuously monitors air pollution and helps you obtain a complete understanding of your indoor air quality. It shows the pollution levels directly on the unit (and it can also be synched to your phone). In response to changing pollution, it is capable of automatically adjusting its speed in order to maintain safe levels based on guidelines published by the World Health Organization (WHO).
It is equipped with a very precise PM2.5 sensor with an accuracy of half a micron in order to track levels of fine particles, airborne allergens, droplets, and aerosols (which contain germs).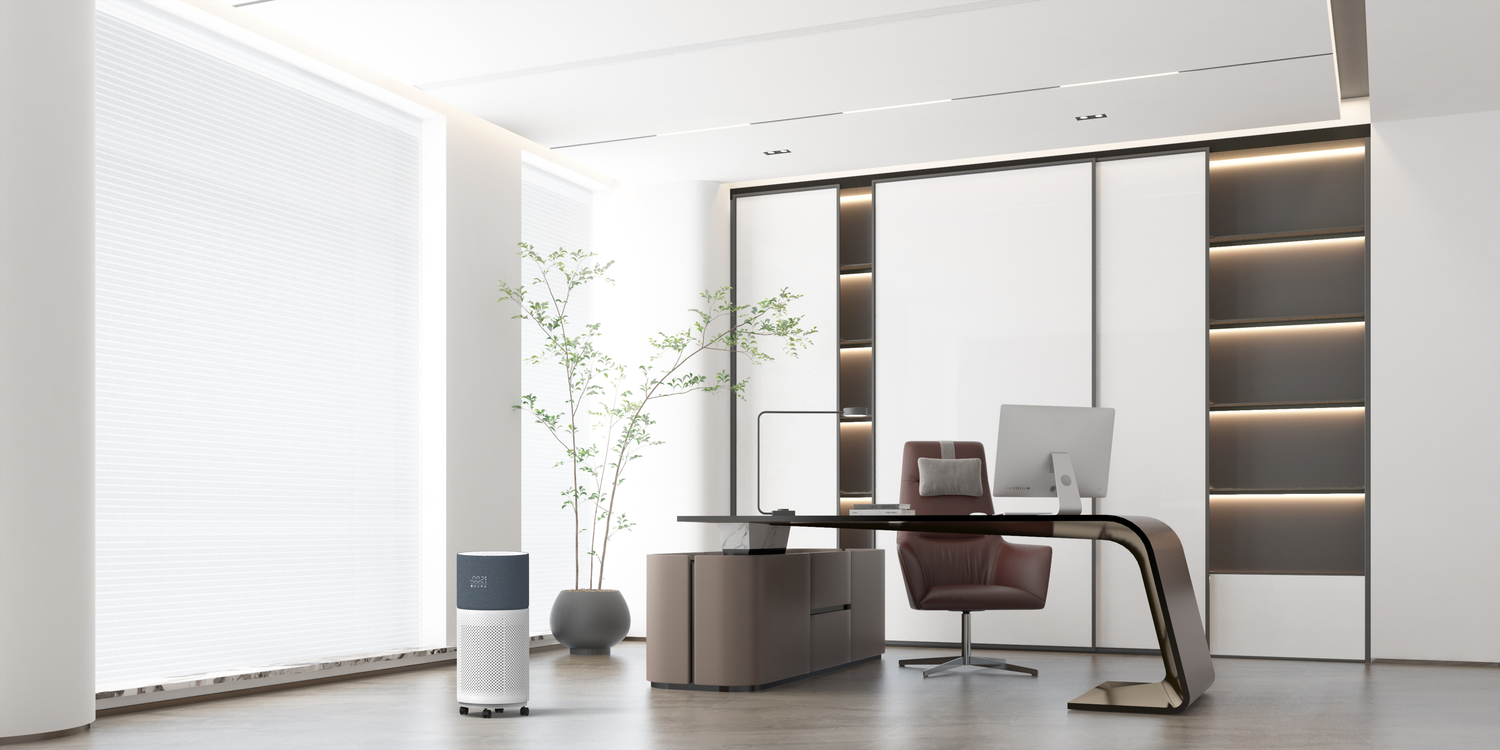 Designed to make your life easier
This air purifier comes with several unique features meant to improve your experience:
• Built-in wheels so that you can move it around effortlessly
• Easy-to-use touchscreen and smartphone app
• Filter change indicator light
• Filter can be changed in a few seconds thanks to its built-in door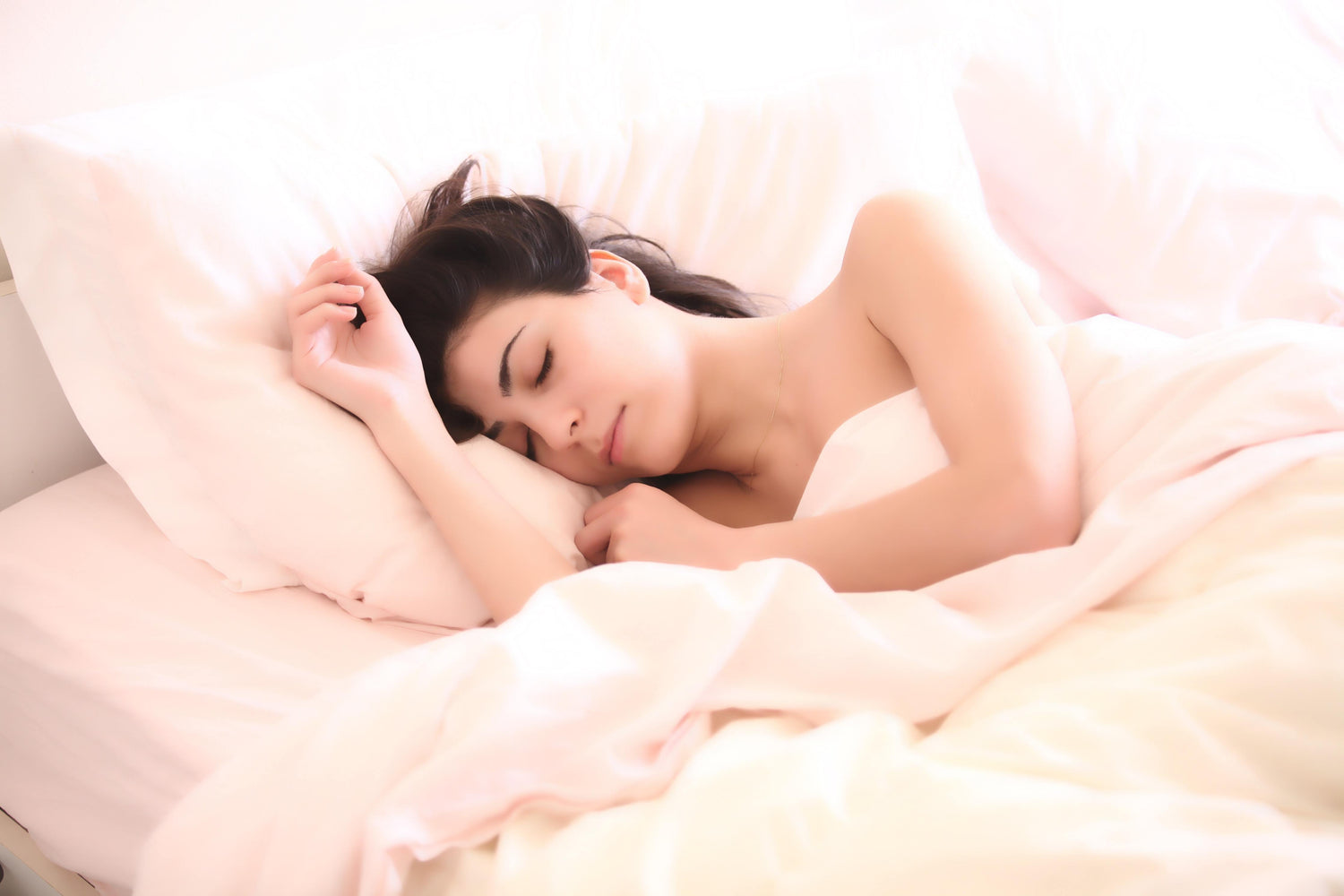 Quiet as a leaf in the wind
The Eoleaf Pure 500 is remarkably quiet, allowing it to easily blend into any environment. Quiet as a whisper in speed 1, its power in speed 4 will equally blow you away.
It comes with a convenient Sleep Mode so that you can rest without the disturbance of noise or light coming from your device. Our air purifiers remove 99.97% of airborne allergens (pollen, pet dander, dust, dust mites), providing you with better sleep quality.
Learn More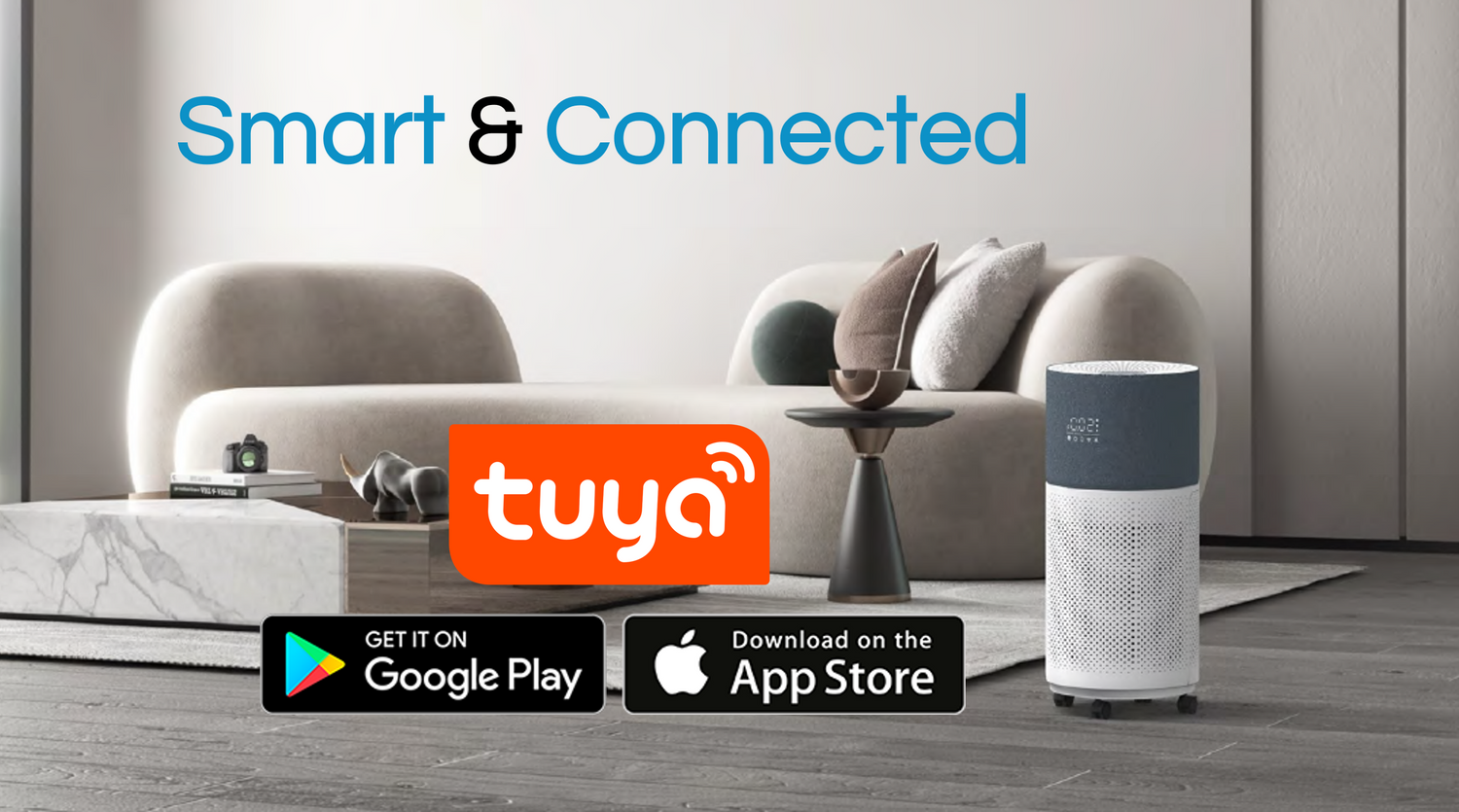 Smart & connected
All our air purifiers come Wi-Fi equipped so they can integrate with the Tuya Smart app (available for both Android and iOS). This allows you to control your devices directly from your phone or with voice commands (compatible with Google Assistant, Alexa, and Siri). You can now control your air purifier and see your indoor air quality remotely.
The Eoleaf Pure 500 is a smart device that comes ready to integrate into your home or office automation. You can manage your fleet of air purifiers remotely and all in one place. You can also program various scenarios according to your needs: decide when it should turn on or turn off; when to enter automatic mode or sleep mode; control when to use UV, photocatalysis, ionisation; and more.
Brilliant concept
I had never heard of an air purifier before and stumbled upon this company while reading a brochure. After some initial internet research, turned out this product seemed to offer all I needed. It is smaller than I imagined but very efficient. I tested it with my e-cigarette (after reading someone recommending this test online) and it responded immediately by increasing the speed.
Service clientèle impeccable
Je n'ai pas encore eu le temps de brancher et démarrer l'appareil mais cet avis est pour remercier l'équipe Eoleaf qui a été aux petits soins et qui a su répondre à mes nombreuses questions avant de passer à l'achat. Merci !
Cadeau
J'ai acheté ce purificateur pour ma mère, elle en est très contente. C'est très simple à utiliser avec des boutons tactiles. Je lui ai paramétrer l'appli téléphone au cas où mais c'est facultatif à mon avis. L'air était plutôt sain cette semaine à Lyon donc elle n'a pas encore testé les vitesses les plus élevées mais cela a l'air efficace et l'air qui sort est agréable.
Ravi de l'achat, marque recommandée par mon voisin. L'appareil m'a l'air très efficace et je trouve pratique de pouvoir voir le taux de pollution en directe.
Overall it is a solid product, good design, powerful and at a good price when you consider the advanced filtration. My only complaint is that it is somewhat louder than I expected. On the lower speeds - where it spends most of its time - it is quiet. But I use it in my living room, next to my fire place, which tends to trigger higher speeds from time to time. Speed 4 is a noisier than I thought, although I understand that this is the cost of more airflow.