Remote control display (compatible with AIRVIA Medical)
(Compatible with AIRVIA AERO 100 and AIRVIA PRO 150)
Regular price
€180,00
Sale price
€160,00
Unit price
per
Sale
Sold out
In stock in the UK. Get it between - .
Worldwide shipping.
Carbon neutral shipping on all orders.
View full details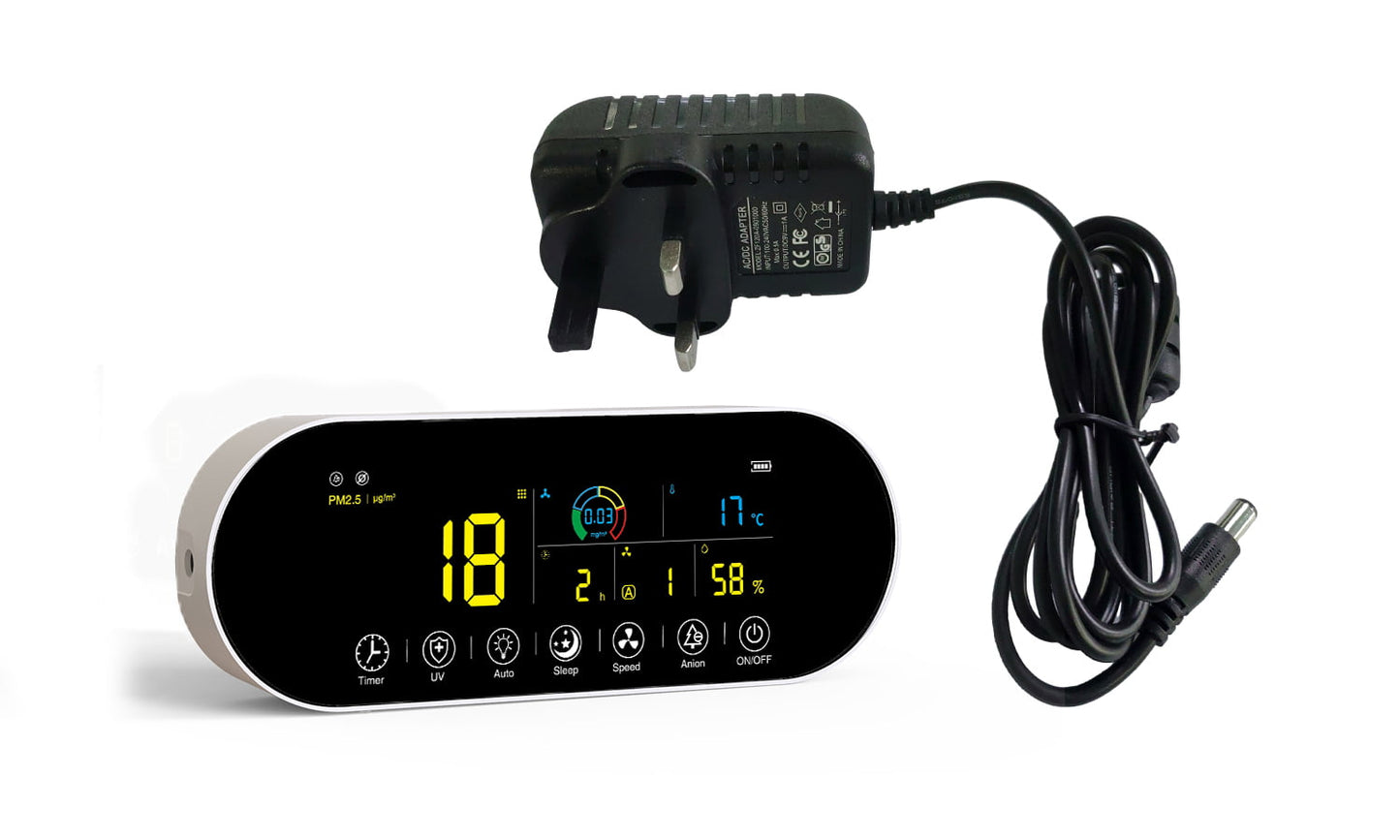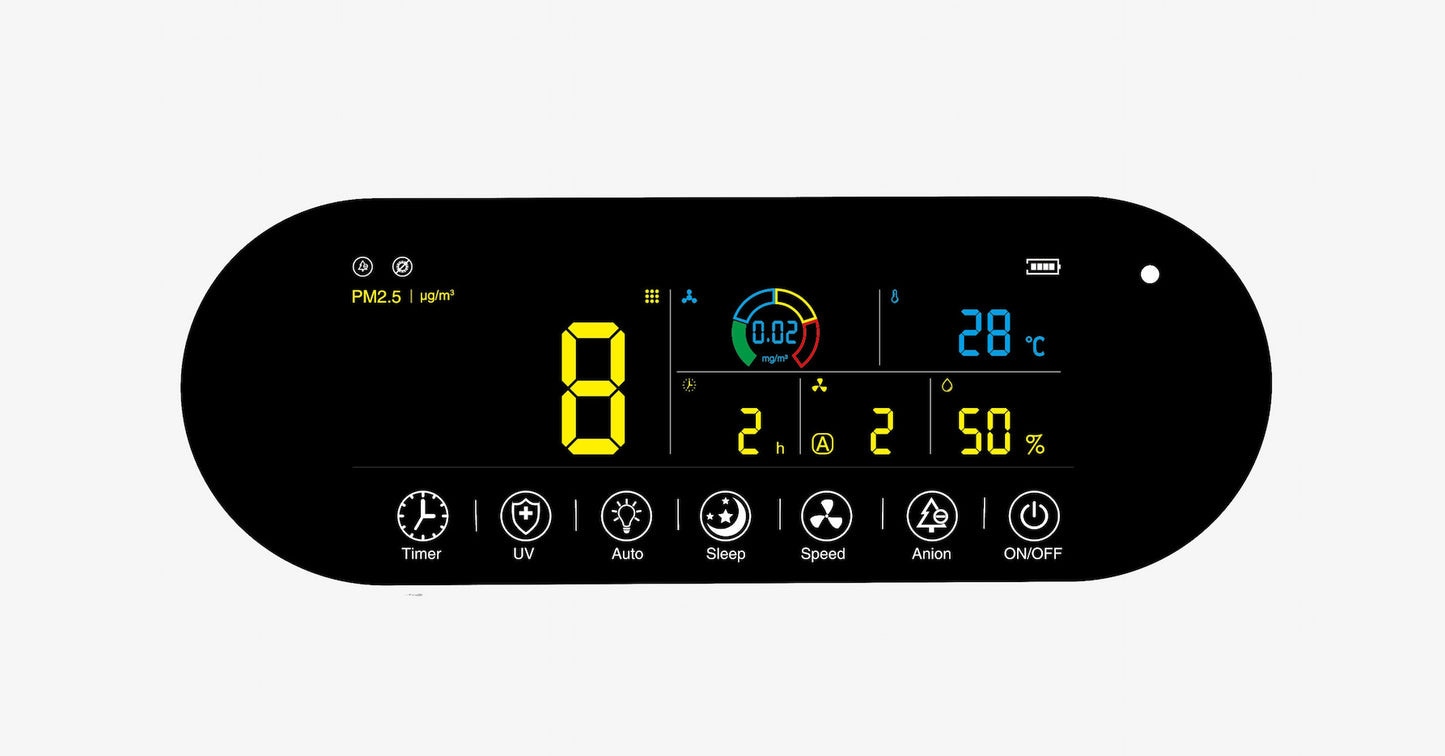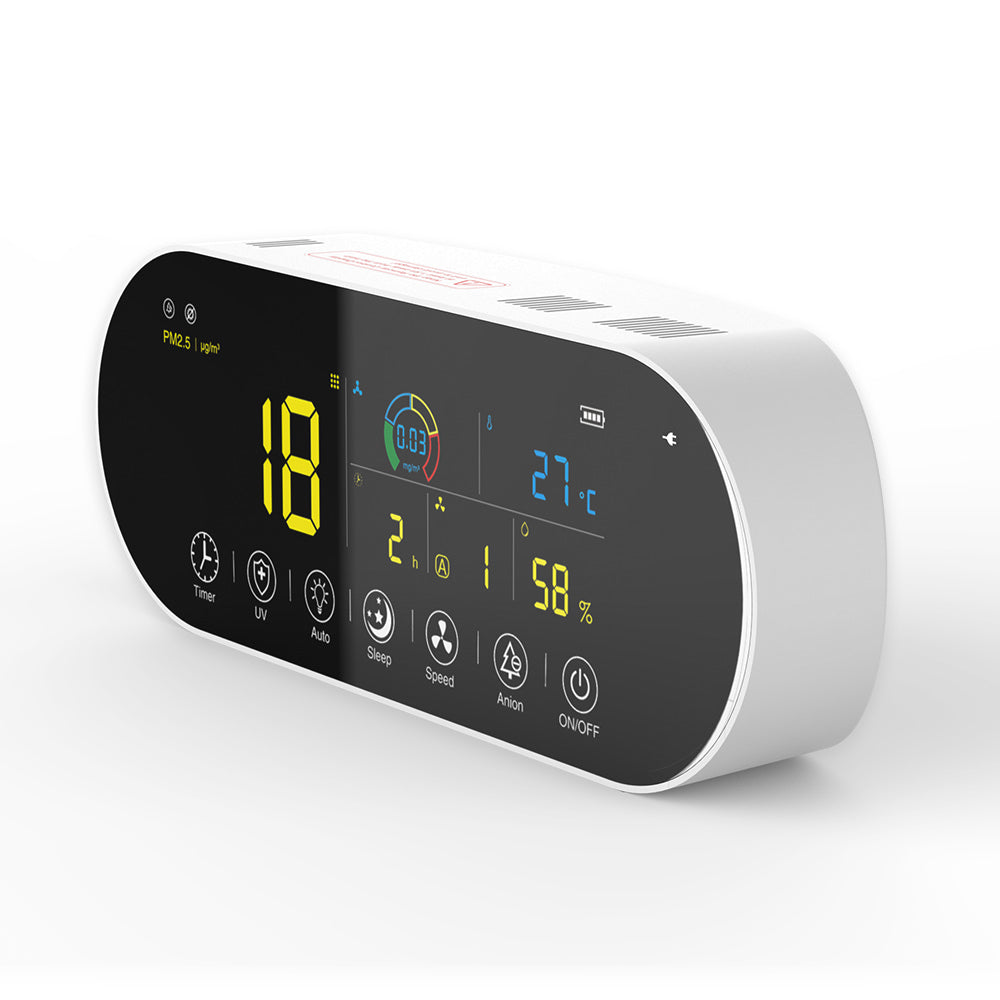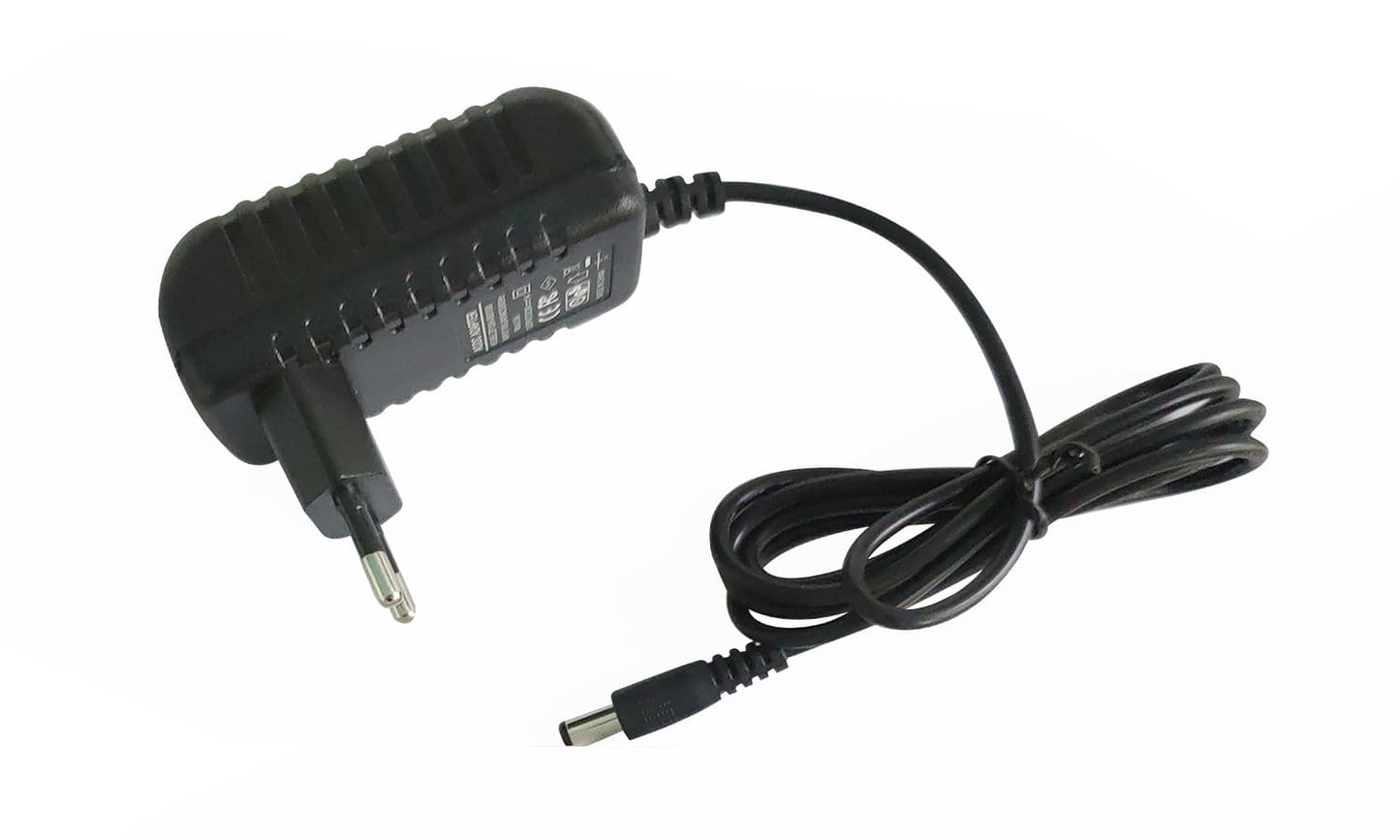 Smart controller and air quality sensor 2-in-1
Shipping

- Worldwide shipping from our warehouse in the UK.
- Two-day delivery.
- Shipping costs are calculated during checkout.
- Zero custom fees, tax charges or import duty.
Technical Specifications

 

Product model

Eoleaf Remote Control Display
PM2.5 sensor (Fine Particles)


Range: 0-500μg/m3
Resolution: 1μg/m3
Precision: ±10%@100~500μg/m3

HCHO sensor (Chemical pollution)

Range: 0~6.25mg/m3
Resolution: 0.01mg/m3
Precision: ±10% @0 - 6.25mg/m3
Temperature sensor
Range: -20° to +50°C
Resolution: 1°C
Precision: ±1°C
Humidity sensor
Range: 0%~100%RH
Resolution: 1%RH
Precision: ±3%@25°C & 20%~80%RH
Chemical pollution indicators

Excellent: Green
Good: Blue
Poor: Yellow
Very poor: Red

Dimensions

18.1 x 45.0 x 0.67 cm (LxWxH)

Weight

300 g
Warranty

- 15-day money-back guarantee.
- 1-year Limited Warranty
Eco Index

- Member of 1% for the Planet: we donate 1% of our revenue to environmental associations.
- Durability: our products are made to last. Remotes will be available for the entire lifespan of the machine.
- Repairability: we have two dedicated repair centres located in the UK and in France.
- Eco shipping: all our deliveries are carbon neutral. We never use air transport at any point of the supply chain.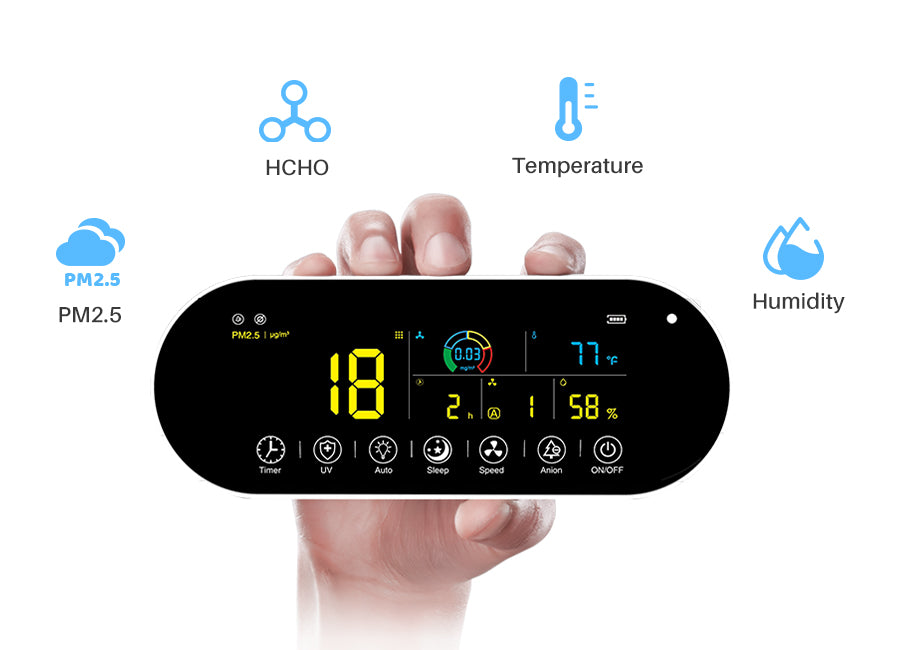 Real-time air quality data
Our AEROPRO 100 and 150 air purifiers come with a one-of-a-kind Bluetooth Remote Control Display which continuously monitors air pollution and helps you obtain a complete understanding of your indoor air quality. It displays the pollution levels directly on its screen (and it also syncs to your phone). In response to changing pollution, the automatic mode is capable of automatically adjusting the fan speed in order to maintain safe levels based on guidelines published by the World Health Organization (WHO).
The terminal is equipped with very precise PM2.5 and HCHO sensors with an accuracy of half a micron in order to guarantee you clean air by tracking levels of fine particles, airborne allergens, droplets, aerosols and chemical pollution.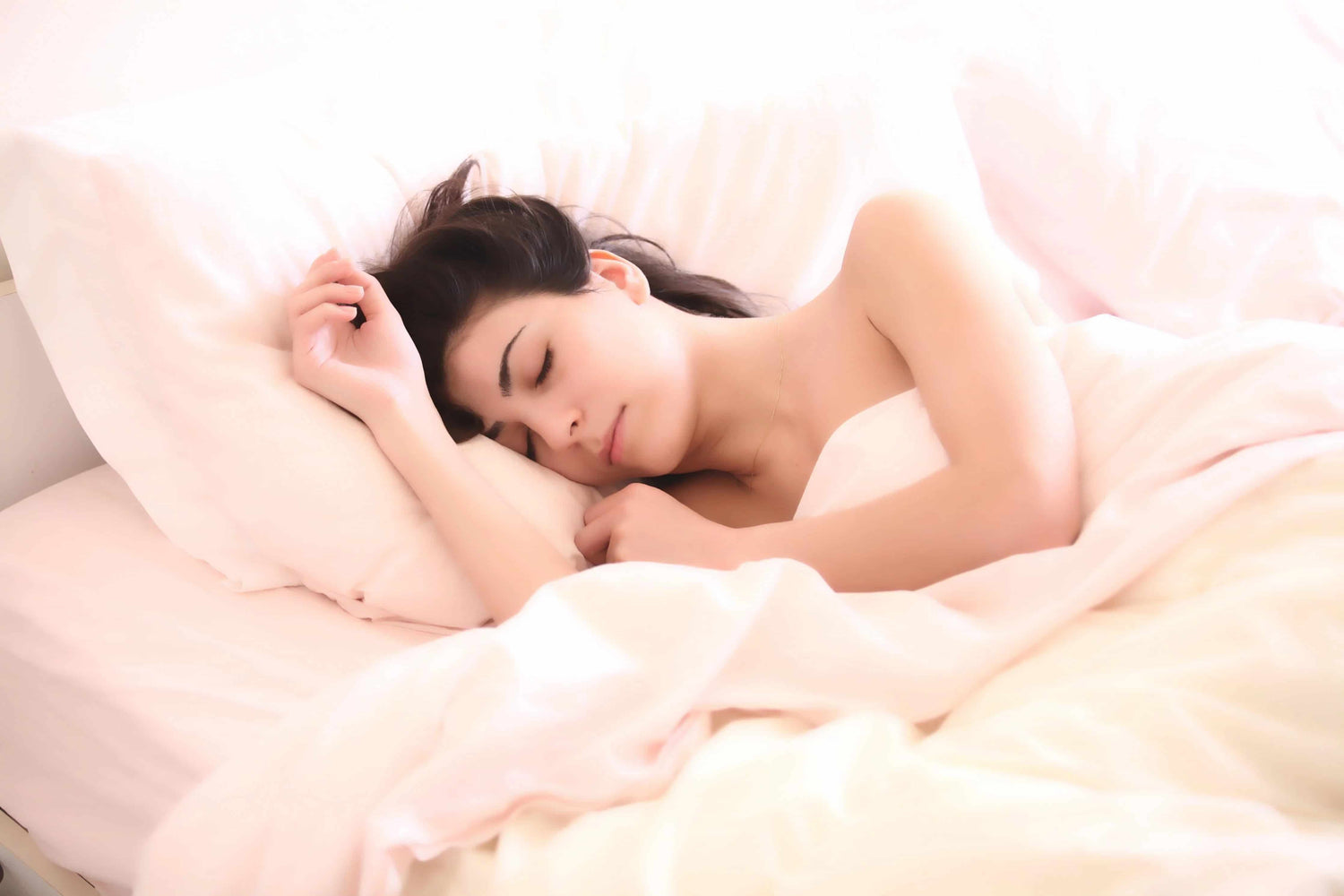 Comes with a convenient Sleep Mode
Our air purifiers are remarkably quiet, allowing them to easily blend into any environment.
Our Bluetooth Remote Control Display comes with a convenient Sleep Mode so that you can rest without being disturbed by the noise level or light coming from your device or from the remote.
Learn More
RAVIE
Accueil tel super, écoute et professionnalisme ! ça fait du bien ! Le contrôleur correspond tout à fait à l'ancien d' Airvia médical ! Je recommande votre site !
si prochaine commande = aucune hésitation..
Terminal de remplacement
Produit conforme très satisfait du s a v
Merci
livraison conforme à l'attendu
livraison conforme à l'attendu
Merci SAV d'EOLEAF
Merci à cette nouvelle entreprise EOLEAF qui a pris le relais d4AIR VIA MÉDICAL (entreprise sans scrupule).
LE SAV d'EOLEAF m'a envoyé un nouveau boitier de commande d'effectuer et a honoré la garantie de mon épurateur d'air PRO 150. Je souhaite une bonne continuation et réussite à cette nouvelle équipe.